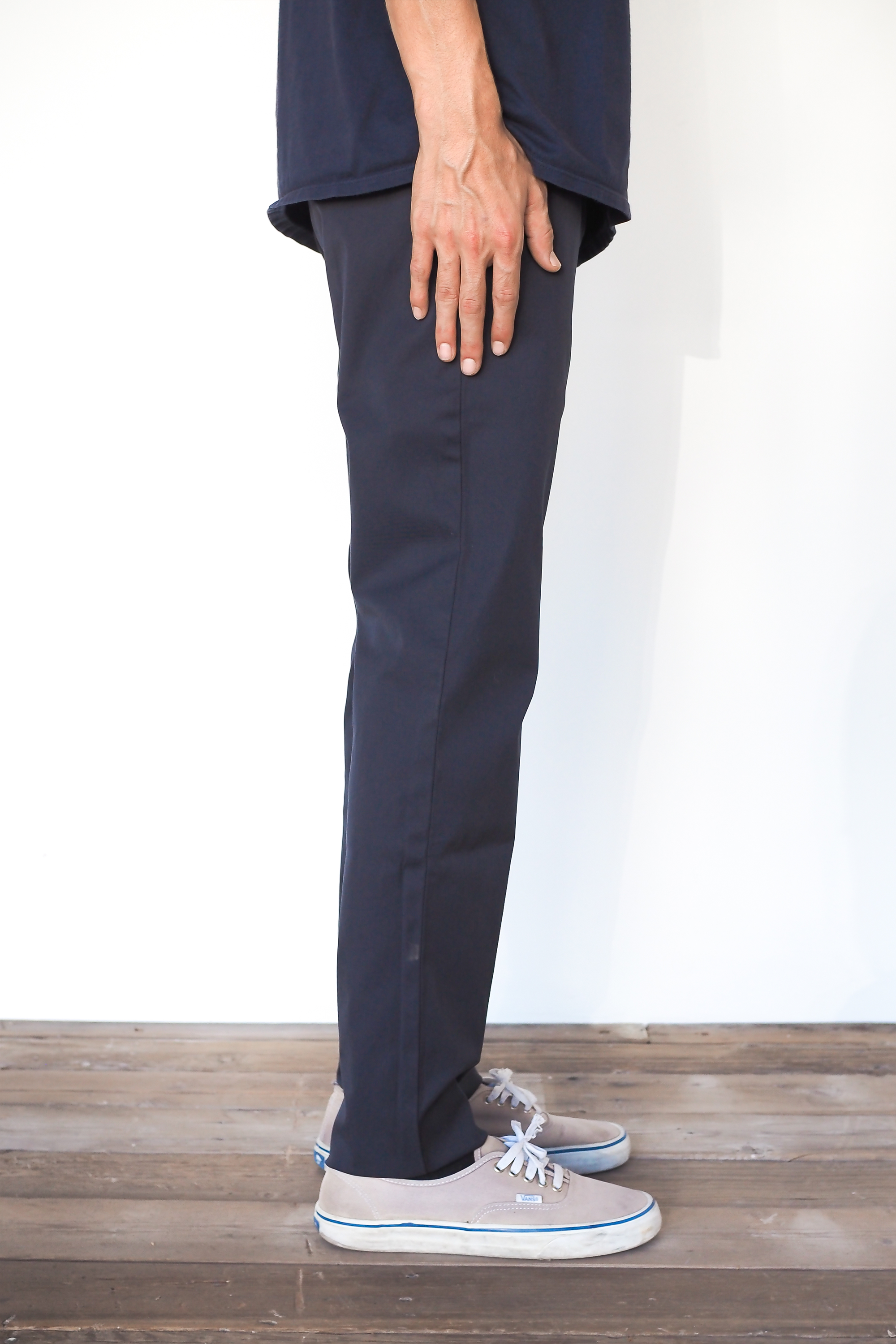 Slim Taper Stretch Chino Navy
The Slim Taper Chino is a modern fitting, all occasion style fit.  Although slim, the fit is not skinny.  The thigh has space and then the taper begins mid thigh for a tighter leg opening.  The lower front rise is meant to sit just below the hip.  This chino is best custom hemmed at and around the ankle or top of the footwear.
The fabric is a 98/2 Cotton Poly stretch Japanese blend that has been enzyme washed to increase the soft touch.  This blend is spring weight and of contemporary style and approach.  White Japanese herringbone fabric is used for the pocket bags and the waist band.  The design concept was to be dressed up.  This is achieved by the elimination of exterior stitching all around the pant from interior and exterior leg seams as well as the hand pocket entry.  The rear features two double welt pockets with one button on the left side.  The button was not included on the right side as it too often conflicts with ease of slide for one's wallet should they employ the standard approach.  Horn buttons from Italy are used for the fly.
Being a stretch fabric it is recommended to go with the snug waist fit and then the fabric will stretch accordingly and the wearer will be comfortable all day.  This fabric has already been pre shrunk but it is encouraged to wash on cold and dry on the lowest temperature.  Typical characteristics of stretch fabric are after multiple wears the chino will be more open.  A wash will bring the pant right back to day one fit ready for another week ahead.  It is recommended to pull the chino inside out when washing.
Slim Taper Stretch Chino Navy